2014 NBA DRAFT RECAP!
I think it's proper I come out of my brief off season hiatus to give you guys my thoughts on the highly anticipated, and much hyped 2014 NBA Draft. With a stacked draft class full of top college and international prospects how could I resist? Many of picks made might very well change the course of the NBA over the next few years. Lets take a look at what when down last night.
Take a close look at the photo above featuring the top two picks Andrew Wiggins and Jabari Parker -drafted 1 and 2 respectively- because they're sure be compared for years to come. I liken the two players to this generations Lebron and Carmelo or even Oden and Durant. Like the latter duo, odds are one player will have a very bright future in the NBA. The other? Lets just say he might not live up to expectations. One things for sure, they both have superstar potential. And lets not forget 7 foot Cameroonian Center Joel Embiid who isn't pictured, but was drafted 3rd overall even despite a recent injury. If healthy he would be wearing a Cavs uniform this fall instead of his former college teammate. However, scouts still predict him to be the best prospect out of all three long term.
Aside from order, the top three were never much of a debate. Picks 4-10 were another story however, and had a few deviations from most mock drafts, most notably with high flying Arizona SF Aaron Gordon going to Orlando at pick 4, which was much higher than anyone expected. Speaking of going higher than expected….
Michigan Wolverine sharpshooter Nik Stauskas cracked the Top 10 somehow making yet another Canadian born talent lottery bound this year. That's gotta be some sort of record right? It's great accomplishment for Nik, U oF M Basketball and the Country of Canada but maybe not the best selection for the city of Sacramento who just drafted a nice SG last year in Ben McLemore. But let's take a moment to salute Ontario or the GTA, a region that produced not one but two top ten picks in this deepest of NBA drafts. A third Canadian, Tyler Ennis would be drafted later at 18. It's not quite the lottery but still a very impressive showing for our neighbor up North that hasn't been known for producing first round basketball talent until recent years. Moving on, the story of the draft this year as far I'm concerned is Louisiana's own Elfrid Payton…. and his hair. Not unlike fellow mid-major star Damian Lillard last year, the ULL junior point guard came out of nowhere to go into the lottery drafted by Philly at number 10 and later traded to the Magic. Now that everyone knows his name, Payton will be one to watch this upcoming season for sure. Can he actually be as good as Lillard and maybe win rookie of the year in 2015?
Once out of the lottery the draft was highlighted by a few players who slipped (Kentucky's Julius Randle, Michigan St guard Gary Harris), teams who got steals (James Young to Boston at 17, Kyle Anderson to San Antonio at 30), trades (Doug McDermont to Bulls from Nuggets, Shabazz Napier to the Heat from Hornets) and the Raptors who made probably the most bizarre pick in NBA draft history at number 20.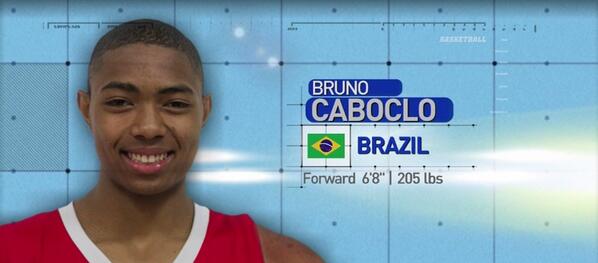 19 year old Bruno Caboclo or "the Brazilian Kevin Durant" who is, to quote the great Fran Fraschilla: "2 years away from being 2 years away". Apparently no scouts, analysts or nba fans had him in their radar. Maybe Raptor GM Masai Ujiri knows something we all don't. Nonetheless, the pick provided the comedic relief for the night. I guess we'll find out in about 4 years how go or bad of a pick it actually is. Perhaps Toronto basketball fans will have the last laugh.
While Bruno was the funniest moment of the draft, by far the best moment of the draft came as Sterling choose to honor Baylor's Isiah Austin, who would've been drafted last night had it not been for a recent health discovery during a team physical that ended his career before it could even begin. Check out footage of the heartwarming moment below:
I wish all the best for Isiah in the future. I hear he will now finish his studies a Baylor and has a place on the Basketball team coaching staff after graduation.
Before I finish, I must comment on the Detroit Pistons passing up on yet another hometown prospect, Glenn Robinson III. No love for the Maize and Blue? And how about the Knicks for passing up on reuniting GR3 with his former teammate Tim Hardaway Jr? I can't be mad at the Knicks, they did pick the better player in Cleanthony Early.
Robinson eventually fell to the Timberwolves a few picks later where he'll join Rubio and their other draft pick Zack LaVine.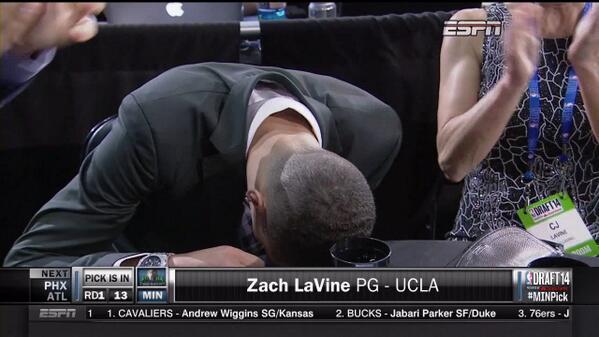 Speaking of Zach, who can forget his priceless reaction to getting picked? Too bad for him, he's only just a multi millionaire at 19 years old. Ok, leaving sunny Los Angeles for Minnesota has to be tough, but for us Basketball fans at least the Timberwolves will be semi-watchable next season after Love is gone. I'm excited at seeing LaVine link up with Rubio on the court even if he isn't to thrilled about it.
Actually I'm excited to see each and every team return to the hardwood this fall. All the new rookies, free agents and rumored trades in the mix this summer sets perfect stage for the upcoming new NBA season, which shouldn't disappoint nearly as much as the NBA finals did.
On that note, I think my work here is done…. for now. Back into hiatus I go. See you in a few months!